This page is divided into the following topics. Click on the link to get there directly.
High-quality wastewater treatment components from ATB WATER
Based on more than 20 years of experience, ATB WATER develops and manufactures the core components for biological wastewater treatment in-house at various locations in Germany and Romania.
Both our aerators, mixers and decanters and our advanced processes for mechanical pre-treatment, sludge treatment and hygienization are available in several versions. Together, they cover a wide range of process engineering variants used in wastewater treatment. From SBR applications to classic activated sludge processes, MBBR technologies to membrane processes, the technically and economically optimum solution is selected in dialog with the customer from the wide range of available products.
The high in-house production depth in the area of plastic and stainless steel processing enables us to implement individual and tailor-made solutions "Made in Germany" at particularly economical conditions. Our manufacturing subsidiary in Romania works to the highest quality standards and is ISO 9001 certified.
ATB WATER components have proven themselves in municipal wastewater treatment as well as in industrial applications across all industries. Our equipment is already used in numerous applications in a wide range of industries, e.g. in milk processing, breweries, slaughterhouses, rendering plants, food processing plants or even in leachate treatment or surface water treatment on biogas plants. You can find more details on special application areas in the menu of our industry solutions.
Now discover for yourself on the following pages diverse possibilities of wastewater treatment with components from ATB WATER.
Aerator
ATB offers almost the entire range of aeration technology in the field of wastewater treatment.

You will find a wide range of design variations and sizes of a wide variety of aerators:
Surface aerator
Submerged self-priming aerator
Surface aerator / centrifugal aerator
Ejector / jet aerator
With our process engineering expertise, we support you from the determination of the basic principles to the selection of units to the constructive realisation of your plant.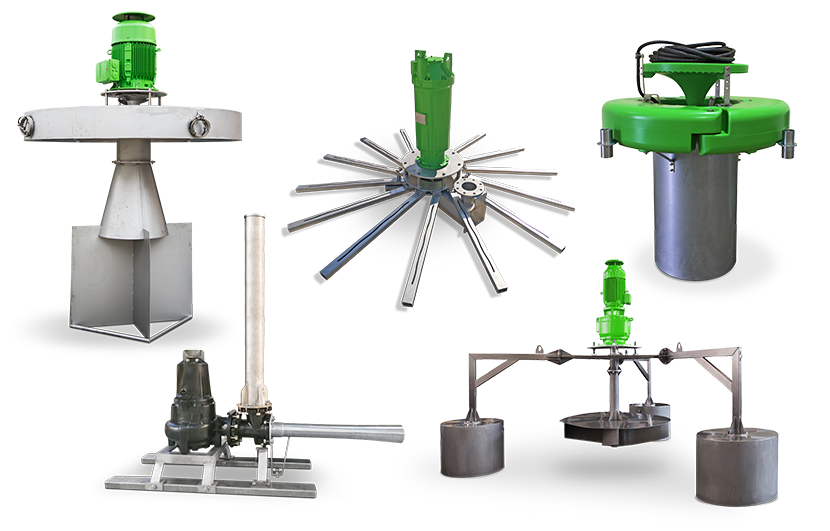 Mixer and combination units
Mixers and combination units from ATB WATER homogenize the basin contents and prevent the deposition of sediments on the basin floor.
Our floating top-entry mixers type HSM and our combination units consisting of surface aerator and mixer have proven to be particularly economical and low-maintenance alternatives in practice due to their vertical flow design and simple construction.
Various design variants are available and also allow customer-specific solutions. In addition to classic activated sludge plants and ponds, the mixers are particularly suitable for SBR plants and plants where the prevention and control of floating layers is also of particular importance.
Vertical mixers / Floating top entry mixers
Combination units of surface aerator and mixer

Decanter
ATB-CWE decanters are used to remove the near-surface clear water layer at the end of a treatment cycle in an SBR plant.
Decanting describes the sludge-water separation step in the SBR process. In the SBR process, the clear water discharge / decanters assume the function of the secondary clarifier and are therefore of absolutely decisive importance for the effluent quality. Their function is essentially determined by the solids content in the effluent of the treatment plant. ATB decanters have been specially designed to meet the process-specific requirements of the SBR process.
The floating design in combination with a submerged and completely horizontally aligned inflow area ensures that only the clear water layer reaches the effluent of the wastewater treatment plants. Turbulences are excluded by the very conservative design of the aggregates. Different design options with and without own pressure increase allow the adaptation of the units to different hydraulic and wastewater technical specifications.

Pump decanter
Stainless steel decanter
Stainless steel decanter with automatic closure

Further information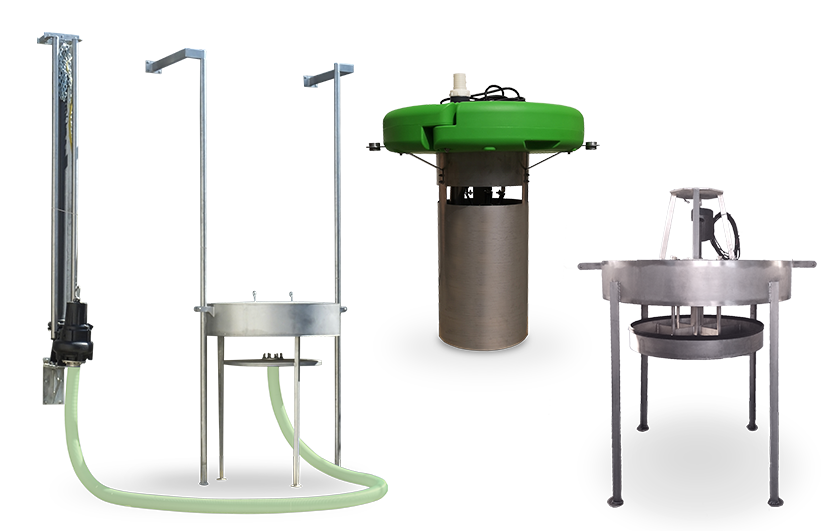 Rental equipment
In many applications, you as a customer are faced with the problem that no exact design data is available or that you only need an interim solution. For these applications, ATB also offers the option of using aerators, mixers or decanters within the framework of a rental agreement instead of purchasing the equipment.
The rented equipment remains the property of ATB and can be used by the customer for a monthly fee, e.g. for test purposes or for an interim solution. The rental contract can be terminated monthly by the customer after the minimum rental period of 3 months has expired. Should the customer decide to purchase during the rental period, a substantial part of the lease payments can be deducted from the purchase price. This opens up the possibility of making the investment decision on the basis of real in-situ operating experience, especially in the case of complex process engineering tasks.
If there is no suitable rental device in stock, ATB will manufacture it especially for the rental order.

Municipal wastewater treatment plant
Rainwater purification on a biogas plant
Landfill leachate treatment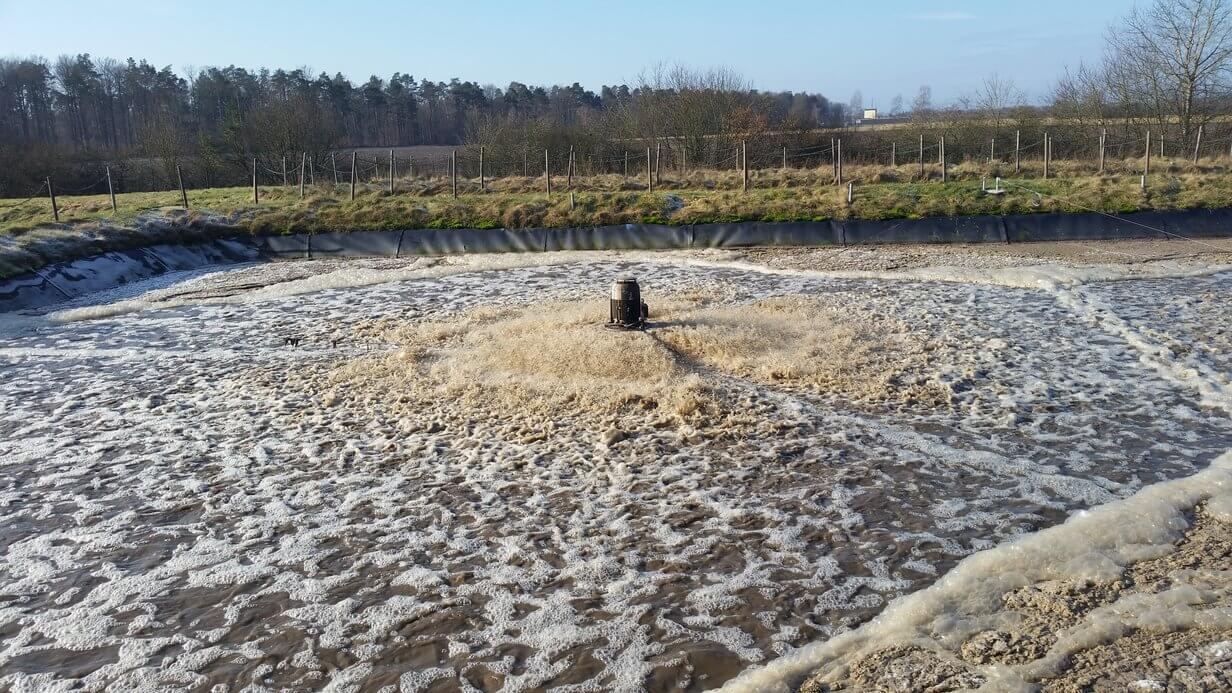 Mechanical pre-cleaning

In mechanical wastewater treatment, solid wastewater constituents are removed mechanically by various sedimentation and separation processes. In this process, about 15% of the substances are removed from the wastewater by their specific gravity as settleable or floating substances before it continues to biological treatment.

Screw screen / rotary screen
Static curved screen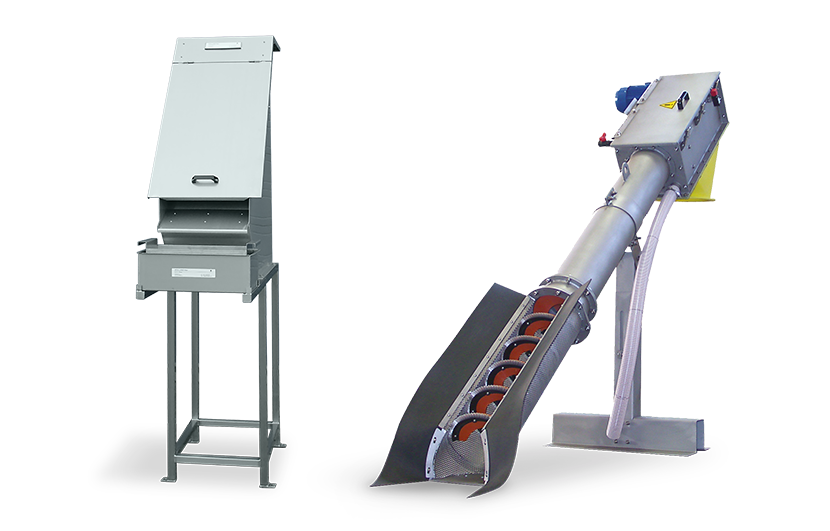 Sludge treatment

All wastewater treatment processes produce large quantities of sewage sludge (primary and secondary sludge). This largely contains water and organic substances. In a first treatment stage, the sludge is thickened, i.e. usually subjected to further sedimentation. If required, the stabilized sludge can be thickened and dewatered again in additional treatment stages.

Static sludge dewatering container
Sludge dewatering with filter bags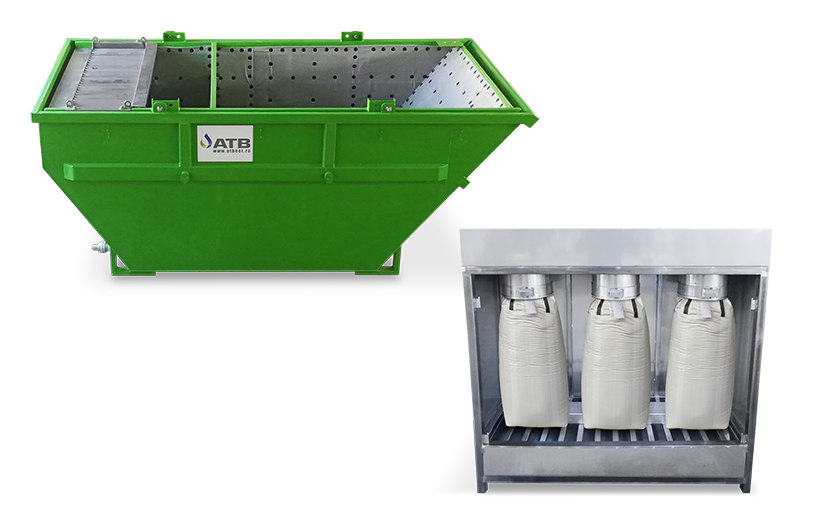 Hygienization

Hygienization is the reduction of pathogenic organisms contained in wastewater to such an extent that the remaining residual concentration can no longer lead to a health hazard for humans or animals. In addition, it must be ensured that no further reproduction can take place in the event of reinfection with germs.

UV disinfection
Chlorination