The idea from the simplicity of wastewater treatment
It began in 1999, when three members of the small company called »Abwassertechnik Baumann« (Baumann Wastewater Engineering), all of them members of the Baumann family, were deliberating how they could make the lives of installation partners and of the operators of small sewage treatment plants easier – both economically and technically. Rapidly, the idea of developing a small wastewater treatment plant, which can be installed without big effort, as retrofitting unit both in old and also new multichamber pits, was born. And: the cost/performance ratio had to be more than fair.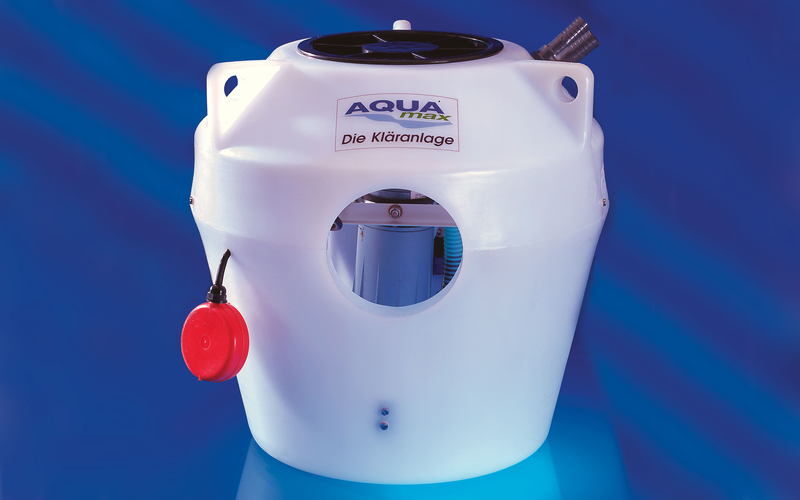 With the help of familar specialists and engineers as well as with some borrowed money Markus Baumann and his father, Dipl.-Ing. Dagobert Baumann, developed the concept for a new generation of wastewater treatment plants. The basis for this was provided by a technology, which had already achieved outstanding results in large scale wastewater treatment operation and which was able to balance out heavy variations in loading: the SBR process.
The first prototype was created in the cellar
Based on this, the first prototype of the new sewage treatment plant was created in the cellar of the Baumann family house. The first units were assembled and tested in the garden pond, rebuilt and tested… and one day, after many long nights and weekends in the cellar, the AQUAMAX ® was finally finished. Now it was possible to retrofit antiquated wastewater treatment plants with a modern system without extensive excavation work and to install new wastewater treatment plants without great expenditure.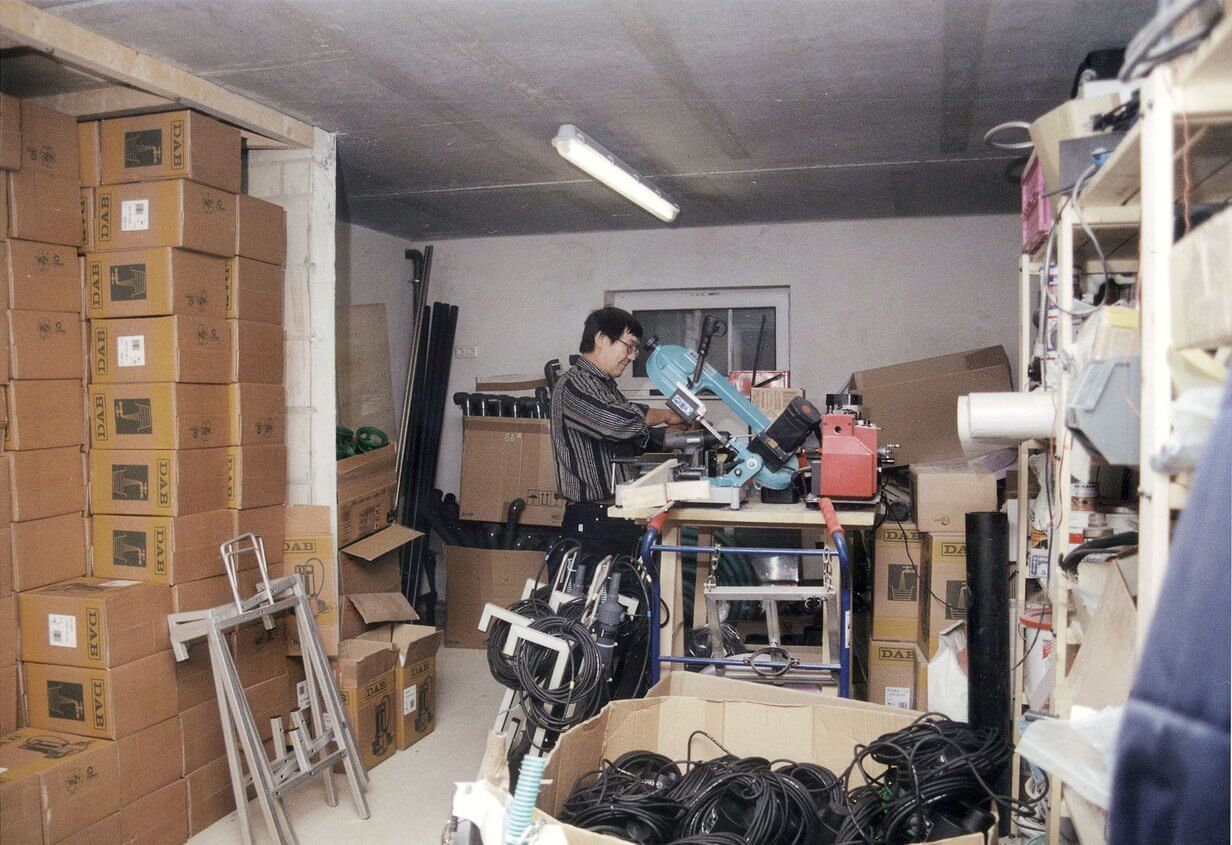 Pioneer work
As the SBR technology, which was used in the AQUAMAX ® plant, was not yet described in any valid DIN standard specification, the Baumann's in collaboration with the RWTH (Rhine-Westphalian Technical University) in Aachen, had to do pioneer work. The AQUAMAX ® has been tested thoroughly until it was finally granted: The German "National General Technical Approval" No. Z-55.3-53 in accordance with DIN 4261. The way towards one of the most fascinating success stories in the branch was thus free.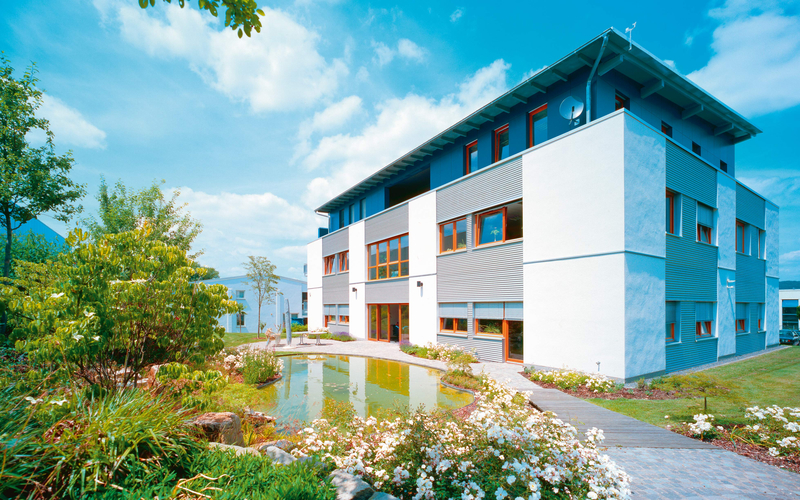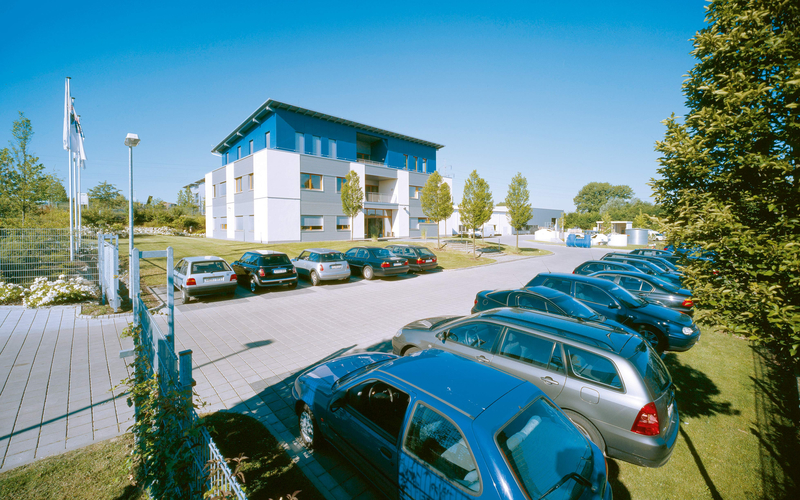 Always one step ahead
What at that time caused incredible interest and great scepticism in the branch, is today across the whole of Europe an established product with more than 100,000 units sold, unchallenged market leader in Germany. A wastewater treatment plant market without it can no longer be imagined. In the meantime, from a single product a complete system of small wastewater treatment plants, which covers a large bandwidth of demands, can be obtained, from 4 (for remote houses) up to 10.000 PT (for the catering trade, hotels and commercial objects as well as for housing estates and small villages). Having started as a revolutionary generation, in the meantime an also revolutionary AQUAMAX ® BASIC arised. This version works without a further pump with the same efficiency and is therefore able to dispense in too many vulnerable electrical components. And, through the exceptional AQUAMAX ® system, all plants can even be retrofitted per update – for denitrification and for the disinfection of wastewater. And the development goes on: together with well-known institutes and universities we are working continuously on new ideas for wastewater treatment plants, solutions and technologies to optimise today's treatment of wastewater, to make it even more efficient... and to continue to be one step ahead of the innumerable AQUAMAX ® copies.
AQUAMAX ® service means: 100% safety for installation partners and operators!
It goes without saying that the customer service plays a large role with such a range of products. Therefore a team of highly qualified and experienced staff ensure that - practically around the clock - the installation partners and the plant operators can sleep peacefully. The ATB emergency service, dispatch of spare parts within 24 hours, the free hotline service, monthly installation and maintenance seminars and a great deal more round off the AQUAMAX ® concept and complete the ATB WATER philosophy, which is valid still today: to make the lives of installation partners and operators of small sewage treatment plants as simple as possible, both economically as well as technically.
Foundation stones of success: innovation and quality
Through this target, enormous courage, visionary thinking, a large amount of innovative strength and an always unwavering high quality, in the shortest time one of the most renowned companies in the branch with over 50 employees has resulted from a small family business: ATB WATER GmbH in Porta Westfalica
In addition, at our site in Weißensee/Thuringia we produce precast concrete tanks. This enables us to supply complete sewage treatment plants. Our product range is rounded off by collecting pits for rainwater and wastewater.
Our latest development, PUROO ®, once again sets milestones in the world of the wastewater treatment
With very low power consumption and totally without troublesome solenoid valves, PUROO ® is another big step in the improvement of small wastewater treatment plants. In May 2014 the PUROO ® was the winner of the GreenTec Awards category "Water & wastewater", Europe's biggest environmental and economic prize.